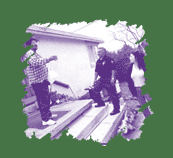 Free To Grow
Mailman School
of Public Health
Columbia University
722 West 168th Street,
8th Floor
New York, NY 10032









Family to Family




Child Protective Services

: Child Welfare


Developed by the Annie E. Casey Foundation in 1992, The Family to Family initiative is designed to help communities and public agencies develop more effective responses to prevent child maltreatment and to respond more effectively when there is abuse or neglect. With appropriate support, guidance and resources provided early enough, the initiative has shown that families can be helped to safely care for their children in their own communities and in their own homes. When emergency situations require the separation of a child from his or her family, efforts can be made to have the child live with caring and capable relatives or with another family within the child's own community, rather than in a restrictive institutional setting.
Among the many goals, the Family to Family Initiative provides an opportunity for states and communities to implement innovative ways to rebuild their foster care system by:

better screening children being considered for removal from home, determining what services might be provided to safely preserve the family and/or what the needs of the children are;

becoming a neighborhood resource for children and families and investing in the capacity of communities from which the foster care population comes; and

providing permanent families for children in a timely manner.
The four core strategies of Family-to-Family:

Recruitment, Training, and Support of Resource Families: Finding and maintaining local resources that can support children and families in their own neighborhoods by recruiting, training and supporting foster parents and relative caregivers.

Building Community Partnerships: Partnering with a wide range of community organizations, including nontraditional ones in neighborhoods which are the source of high referral rates, to work together to create an environment that supports families involved in the child welfare system by helping to build stronger neighborhoods and families.

Family Team Decision-Making: Involving not just foster parents and caseworkers, but also birth families and community members in all placement decisions to ensure a network of support for the child and the adults who care for them.

Self-Evaluation: Using hard data linked to child and family outcomes to drive decision-making, and to show where change is needed and where progress has been made.
(Adapted from information on the website of the Annie E. Casey Foundation, 2004, http://www.aecf.org/, and used with permission of the Annie E. Casey Foundation)
Evaluation



The evaluation of Family to Family shows that good foster families can be recruited and supported in the communities from which children are coming into placement. It also shows dramatic increases in the overall number of foster families are possible, with corresponding decreases in the numbers of children placed in institutions, as well as in the resources allocated to such placements. Perhaps most importantly, Family to Family is showing that child welfare agencies can effectively partner with disadvantaged communities to provide better care for children who have been abused or neglected.

(Adapted from information on the website of the Annie E. Casey Foundation, 2004, http://www.aecf.org/,and used with permission of the Annie E. Casey Foundation)



Family to Family



Family to Family in Cuyahoga County has become the best way to visualize the new way of doing business for child welfare. The child welfare agency partners with foster and adoptive families and relatives, with neighborhoods and communities, and with other public and private agencies. Cuyahoga, similar to other agencies had child welfare workers who have always run the procedure and made the critical decisions regarding birth parents as adversaries and foster parents as employees in the day-to-day work of caring for children at risk. "Agency folk needed to learn how to build bridges to make these partnerships work," Terri Ali, Family to Family neighborhood liaison in Cuyahoga County, points out regularly in training sessions with colleagues from around the country. Family to Family changes the traditional approach at every level. It overturns the assumption that the interests of birth parents and foster and adoptive parents are diametrically opposed. Birth parents are brought into a working relationship with foster parents where possible, while child welfare workers play more of a mediating and coordinating role.

Before Family to Family, one of the most troubling practices for Judith Goodhand, former executive director of the Cuyahoga County Department of Children and Family Services, was the total separation between foster parents and birth parents. "I've seen so many children over the years who were just devastated by the way their foster parents spoke about their birth parents," she said. "Not enough people in the traditional system appreciated the simple fact that the emotional bond between parent and child is a powerful force, and that most children love their birth parents no matter who they are and what they do." "Family to Family strategies educate and encourage not only birth families and foster and adoptive families but also agency staff to work together for the children's best interests, involving even the children in decisions that affect their own lives," Goodhand continued. "We call it team decision making, but work from the starting point by asking what's best for the child or the teen. Then everyone stays on the same side of the table as the birth parents, who are treated not as adversaries but as stakeholders," Terri Ali added.








Featured Strategies


> Community Partnerships for Protecting Children