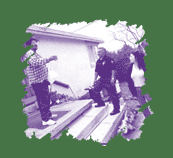 Free To Grow
Mailman School
of Public Health
Columbia University
722 West 168th Street,
8th Floor
New York, NY 10032









Community Partnerships for Protecting Children




Child Protective Services

: Child Welfare


Center for the Study of Social Policy
Initially developed by the Edna McConnell Clark Foundation in 1995, the Community Partnerships for Protecting Children is an approach designed to help communities protect children from abuse and neglect by engaging local community groups, religious institutions, residents and others to work with child protection agencies in protecting children. This collaborative approach focuses on the strengths and supports in individual communities versus a focus on investigations performed by local child protection service agencies. The goals of the approach are that:
· Children in the targeted neighborhoods will be less likely to be abused or neglected;
· Children who come to the attention of Child Protective Services will be less likely to be re-abused or neglected;
· Serious injury to children due to abuse and neglect will decrease.
There are four key strategies to this approach. They include:
· Individualized Practice: Parents, formal service providers and those offering informal support come together in a family team meeting(s) to develop an individualized action plan to keep children safe and support the family. Follow-up is done to watch for progress and see that everyone who was part of the plan is staying on track with his or her commitments.
· Neighborhood Networks: Key players from other service systems assist to ensure that families get the help they need. These partner systems include domestic violence services, substance abuse treatment, mental health services, emergency economic assistance, and others. In addition, high-risk families receive intensive support to prevent child abuse and neglect. Residents serve as mentors to new parents, tutors to children and offer help to neighbors, relatives and friends. "Hubs" or family resource center where families can go and feel welcome, as well as access a variety of services and supports are also available.
· Child Protective services (CPS) Policy, Practice and Culture Change: Child protective services data are collected and analyzed to determine neighborhood trends.. In addition, CPS staff cross-train, shadow, co-locate and jointly work with staff from the domestic violence service system, mental health treatment centers and substance abuse treatment facilities to better serve families with multiple and complex needs.
· Shared Decision-Making: Local governing boards, including community residents, child protection agencies, child-serving organizations and other community institutions govern the partnership.
(Adapted from information on the website of the Center for the Study of Social Policy, 2004, http://www.cssp.org/,and used with permission of the Center for the Study of Social Policy)
Evaluation



Initial results show a reduction of repeat child abuse reports for families served by community partnerships in selected sites and a reduction in foster care placements.

(Excerpted from "Indicators of Site Progress: Overall Report," http://www.cssp.org/uploadFiles/finalreport.pdf and used with permission of the Center for the Study of Social Policy)

Citizen Power for Stronger Families: Jacksonville, Florida



Citizen Power for Stronger Families: Jacksonville, Florida
When one of her neighbors told police she believed Crystal J. had left her four small children home alone in the Washington Heights housing development on Jacksonville's north side, the young mother was promptly arrested on felony charges of child neglect. The officers were

prepared to follow their standard procedures, which would have meant calling in the Department

of Children and Families to remove the children immediately and taking them to an overnight shelter. The department would have found foster care placements for the youngsters, and months would have passed before Crystal could have regained their custody. But when the police arrived that evening, two other mothers in the 200-unit federally subsidized housing development turned standard procedure on its head. One neighbor was already watching Crystal's four children in her own apartment. The others convinced the police officers they would care for the children overnight and that someone from the complex could vouch for the children's safety to the state authorities the very next day. The commotion might easily have ended in the children's forced removal. Thanks to the Community Partnership for Protecting Children, it didn't work out that way. Its leaders had long since cultivated relationships that paid off immediately when Crystal's neighbors called Sandra Durham, director of social services for the private owner of the housing development. Because she knew them personally, Durham was confident the mothers who had taken the children into their homes were capable caretakers with decent apartments. She telephoned a supervisor at the state's Department of Children and Families, a woman she had met through the Partnership, headquartered in the department's Jacksonville district offices, who approved the temporary arrangement. The community was able to ensure that the children would be well cared for while their mother was in jail and Durham knew the neighbors would keep an eye on Crystal's family when she returned home a few weeks later. "We used to be paranoid," says Fannie Green, a program administrator for the Department of Children and Families who helped the Partnership get off the ground. "We used to say we had to be there to pick up the kids when something like this happened. But Sandra knows what she's doing. We can trust her judgment."



(Excerpted from "Community Partnerships for Protecting Children: Jacksonville, FL," http://www.cssp.org/uploadFiles/Jacksonville.pdf and used with permission of the Center for the Study of Social Policy)


Doing Business Differently: Changing Policy and Practice in the St. Louis Division of Family Services



Seeing cockroaches crawl out of a child's backpack might be a warning sign that something's not right at home. Or, it might be an isolated incident of a vermin infestation that could plague even a well-run household. Bugs in a backpack are the kind of small matter that is often overlooked by teachers or other school staff, who might think, "I'm not sure what to do. Should I report this to child protective services? Why intrude on a family if I can't really help?"

In St. Louis, such signs do not go unheeded. In this instance, the school principal expressed concern to child protective services (CPS) staff located at the school. The CPS assessment worker went to the home and found the child's mother, Mrs. D., in a wheelchair, debilitated by

serious health problems and rarely leaving home. The house was filthy and the family was isolated. Initially, Mrs. D. was reluctant to accept services for herself or her daughter, and

her husband was adamantly opposed to any service providers getting involved with his family.

But Mrs. D. did want help for her pet dogs, which were infested with fleas and in need of medical attention. And so the CPS worker got the Humane Society involved to treat the animals, a step that helped open the door to other assistance for the family. Intensive, in-home family preservation services were provided to address the most pressing safety problems, cleaning up the house, re-establishing daily routines, and obtaining health care.

The CPS worker also referred the family to a family support worker, who made weekly visits and, over time, established a trusting relationship with Mrs. D. She helped with practical things such as enrolling their daughter in camp, bringing a fan over on a brutally hot day, and less tangible things including listening to worries and frustrations and solving problems together. Months later, this family's situation has improved markedly. Physically and emotionally stronger, Mrs. D. is now able to get out of her wheelchair and use a walker some of the time. The family moved into a house where she can get around more easily. The family support worker enlisted the help of a local religious organization to make the entrance to the house accessible for Mrs. D. Later, when she saw the attractive wooden ramp along the front of the house, the family support worker recalls, "My eyes filled with tears to realize how much had gone into it and what an incredible job they'd done." A ramp that affords a parent easy access to the local community is an obvious but apt metaphor for the work that has been done with this family.



(Excerpted from "Doing Business Differently - Changing Policy and Practice in the St. Louis Divison of Family Services, http://www.cssp.org/uploadFiles/Doing_Business_Differently.pdf and reprinted with permission of the Center for the Study of Social Policy)








Featured Strategies


> Family to Family