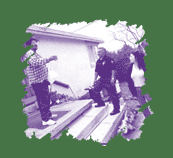 Free To Grow
Mailman School
of Public Health
Columbia University
722 West 168th Street,
8th Floor
New York, NY 10032









The National Center for Mental Health in Schools




Schools

: Mental Health


The National Center for Mental Health in Schools was founded in l995 at the University of California Los Angeles (UCLA) to focus on mental health in schools. The Center's goals are to enhance:
the availability of, and access to, resources to improve and advance mental health

in schools;

the capacity of systems/personnel and

the role of schools in addressing mental health, psychosocial and related health concerns.
The mission of the Center is to address mental health of youngsters to ensure that:
mental illness is understood within the broader perspective of psychosocial and related health problems and in terms of strengths as well as deficits;

the roles of schools/communities/homes are enhanced and pursued jointly relative to mental health in schools;

equity considerations are confronted;

the marginalization and fragmentation of policy, organizations and daily practice are countered and

the challenges of evidence-based strategies and achieving results are addressed.
The Center for Mental Health in Schools approaches its mission with the understanding that schools are not in the mental health business. The Center strives to approach mental health and psychosocial concerns in ways that integrally connect with school reform.


(Adapted from information on the website of the UCLA
School Mental Health Project, Center for Mental Health in Schools, 2004,
http://smhp.psych.ucla.edu, and used with the permission of the UCLA Center for Mental Health in Schools)
Evaluation



There has been renewed emphasis over the past 20 years in the health and social services arenas on increasing linkages between schools and community service agencies to enhance the well-being of young people and their families. This "school-linked services" agenda has added impetus to advocacy for mental health in schools.

(Excerpted from Mental Health in Schools: An Overview, UCLA Center for Mental Health in Schools, 2004, http://smhp.psych.ucla.edu, and used with the permission of the UCLA Center for Mental Health in Schools)