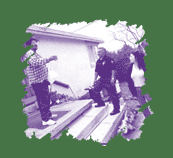 Free To Grow
Mailman School
of Public Health
Columbia University
722 West 168th Street,
8th Floor
New York, NY 10032









Community Policing




Policing

: Law Enforcement


Community policing, a national trend in law enforcement, puts officers back in the neighborhood to work with residents to reduce drug and alcohol-related crime and restore community cohesion. In community policing, a community police officer acts as a liaison between the community and the police department.

Community policing focuses on increasing daily contact in everyday settings among police officers and citizens, rather than in emergency situations only. According to Understanding Community Policing: A Framework for Action, Bureau of Justice Assistance and the Community Policing Consortium, "Community policing consists of two core components:

community partnership and problem solving."

By working with community groups, police become familiar with neighborhood concerns and problems and can be more responsive to the needs and fears of the community. In addition, there is a strong correlation between the perceived legitimacy of police and the willingness of citizens to obey the law. Mutual trust between residents and police can give police greater access to information that can lead to preventing and solving crimes.

Problem solving or Problem-Oriented Solving
is discussed separately, but in a nutshell, it involves identifying problems—crimes—specific to a neighborhood, understanding why the problems occur, developing and implementing long-term solutions and determining the solutions' impact on the problems.

The success of community policing has led to many innovative partnerships with police and the communities they serve.



(Adapted from Promising Strategies to Reduce Substance Abuse – An Office of Justice Programs Issues and Practices Report, September 2000, pgs. 50-51, U.S. Department of Justice, http://www.ojp.usdoj.gov/docs/psrsa.pdf)
Evaluation



While there has not been an overall evaluation of community policing, evaluations of "Weed and Seed" programs that include community policing strategies show significant increases in residents' satisfaction with their neighborhoods and with police services, while perceptions of neighborhood social disorder and worry about property crime decreased significantly. In the experimental area, analysis also showed significant reductions in serious crimes, personal crimes, auto theft and outdoor offenses.

(Adapted from the National Evaluation of Weed and Seed – Cross Site Analysis, Executive Summary, 1999, pgs. xvi-xviii, http://www.abtassoc.com/reports/ES-weedseed-cross.pdf prepared by Abt Associates Inc. for the U.S. Department of Justice, Office of Justice Programs, National Institute of Justice)



Featured Strategies


> Hot Spots

> Problem-Oriented Policing