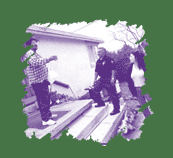 Free To Grow
Mailman School
of Public Health
Columbia University
722 West 168th Street,
8th Floor
New York, NY 10032









Partnerships with Community Based Organizations




Child Protective Services

: General


Many communities around the country are looking for innovative ways of working with child protective services for the benefit of children and families. Research shows that no single agency has all the resources or supports that families with complex and multiple challenges need to be safe and healthy. A number of diverse partnerships are emerging nationally to try and reduce child abuse and neglect rates. Parents, foster families, law enforcement, mental health and substance abuse treatment and domestic violence agencies are partnering together to be responsible and accountable for the health of their families and communities. Some of the new ways child protection agencies are partnering include:
· Child protection service workers are being stationed in neighborhoods with other service providers such as health and employment department staff.
· Child protection service workers are partnering with nontraditional service providers such as domestic violence centers, local day care centers, churches and natural helpers in the community.
· Community boards or citizen review boards are being established to monitor child protection service practice or oversee family group decision-making. Family group decision-making allows families to have the responsibility of making decisions about how to keep their children safe.
Evaluation



According to the evaluation of Family to Family, an approach that includes building community partnerships is showing that child welfare agencies can effectively partner with disadvantaged communities to provide better care for children who have been abused or neglected.

(Excerpted from "The Evaluation of Family to Family," http://www.unc.edu/~lynnu/execsum.pdf) and reprinted with permission of Charles L. Usher, Wallace H. Kuralt, Sr., Professor of Public Welfare Policy and Administration, Jordan Institute for Families, School of Social Work, University of North Carolina at Chapel).



Three stories to share





A district in Florida has turned over the assessments of substance-exposed and drug-dependent newborns to public health nurses. Jacksonville, Florida, has written up community- support agreements in which a community volunteer commits to help a family. When the agreement is signed, the case is closed, but the local agency remains available to the community helper for consultation.

In Los Angeles, families are served by community-based networks, which have as their focal point non-child welfare agencies.

Iowa's Patch project, Louisville's Neighborhood Places, and Jacksonville's Full Service Schools are three examples of co-locating traditional service providers in a community-based site. These programs bring together public agencies, such as CPS, income support, public health, and employment, with private agencies providing recreation programs, parent support groups, preschools, and community-building activities.








Family Strategies


> Sobriety Treatment and Recovery Teams (START)