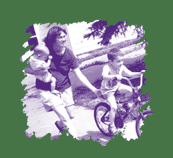 Free To Grow
Mailman School
of Public Health
Columbia University
722 West 168th Street,
8th Floor
New York, NY 10032









Sobriety Treatment and Recovery Teams (START)




Substance Abuse and Mental HealthTreatment

: Parents


The START program specifically targets families in which a mother or her newborn baby tests positive for drugs, either at birth or during the last months of pregnancy, and results in a referral to the child welfare system.

The program provides immediate and intensive support to substance-abusing mothers by offering services to ensure the safety of the infant and other children in the home, quick entry into substance abuse treatment and coordination of other services.

Professionally trained child welfare social workers are paired with advocates who live in the community and are themselves in recovery from substance abuse.

Weekly contact occurs between the mothers and the social work/advocate team.


(Adapted from the START Program Manual, October 2000, and used with the permission of the Cuyahoga County, Ohio START program)
Evaluation



The START program has been shown to increase treatment for mothers, reduce child abuse and neglect, and increase family reunification.

(Adapted from the "Preliminary Evaluation Report," START Program Manual, October 2000, and used with the permission of the Cuyahoga County, Ohio START program)