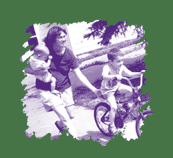 Free To Grow
Mailman School
of Public Health
Columbia University
722 West 168th Street,
8th Floor
New York, NY 10032









Families That Care - Guiding Good Choices




Parent Education

: General


Families That Care - Guiding Good Choices (FTC), formerly Preparing for the Drug-Free Years, is a program that helps parents with adolescent children, in grades four through eight, reduce the risk factors associated with drug abuse and behavior problems. A parent education program, FTC focuses on communication-centered approaches and behavioral skills training.

The program consists of 10 hours of training, given either in 10 one-hour sessions or five two-hour sessions. During these sessions, parents learn strategies for involving their children in family activities and teaching them skillful ways to avoid harmful behavior. Parents learn how to provide reinforcement for positive behavior and to apply appropriate consequences for negative behavior.

FTC is based on the Social Development Strategy, a model developed by the Social Development Research Group (SDRG) at the University of Washington.

The Social Development Research Group

found that certain conditions in a child's community, school, family and peer environments are common risk factors for problems such as drug abuse, delinquency, teenage pregnancy and school failure.


(Adapted from information on the Strengthening Families website, 2002, www.strengtheningfamilies.org, and used with the permissions of Strengthening America's Families Project Effective Family Programs for the Prevention of Delinquency, and the Social Development Research Group, University of Washington)
Evaluation



Results show significant reductions in children's antisocial behavior, improved academic skills, better bonding to others, and fewer incidents of drug use in school. In addition, significant improvements are seen in parenting behaviors.

(Adapted from information on the Strengthening Families website, 2002, www.strengtheningfamilies.org, and used with the permissions of Strengthening America's Families Project—Effective Family Programs for the Prevention of Delinquency, and the Social Development Research Group, University of Washington)



Featured Strategies


> Strengthening Families

> Families and Schools Together