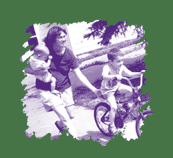 Free To Grow
Mailman School
of Public Health
Columbia University
722 West 168th Street,
8th Floor
New York, NY 10032









Family Partnership and Case Management Approach




Case Management

: Family Support


This strategy was developed by Audubon Area Community Services (AACS) located in Owensboro, Kentucky. It represents a revised and expanded version of the AACS Head Start's family service component. The validated Family Partnership Plan provides guidelines for staff to assess or "score" families needs to determine an appropriate level of intervention. This model has identified five service levels, ranging from services geared to families who are "more self-directed and are able to meet the majority of their needs on their own:" to services geared to those who require intensive assistance "due to a crisis or due to the ability or functioning of the family." The Family Partnership Plan is formally completed at the beginning and at the end of the school year. The Plan is used as a basis to begin providing case management services to families in need. By comparing the "before" and "after" versions of the Plan, families and staff are able to determine progress in specific areas of family functioning and determine whether the level of services provided was sufficient, effective, and helpful.
Download Full Strategy
Evaluation



This strategy has demonstrated significant improvements of pre and post assessed families in every measured dimension (education, employment, housing, transportation, service use, special needs or disabilities, health and nutrition, medical care, family finances, basic needs such as food, clothing, or utilities, support systems child care and parenting), indicating an improvement in the well being of families served.

(Philliber Research Associates. Executive Summary - "An Analysis of the Enhanced Effectiveness of the Audubon Area Community Services Free To Grow Enhanced Case Management and Family Advocacy Model, March 2001).



Family Partnership and Case Management Approach



As a result of implementing our revised family service component, Audubon not only met the new performance standards that required Head Start sites to develop individualized Family Partnership Agreement, but it went far beyond those requirements producing the Family Partnership Plan which helps families and program staff paint a vivid portrait of the family and community.

It helps them think together about how to build on strengths and address needs.

It also helps program staff match families with the most appropriate service.