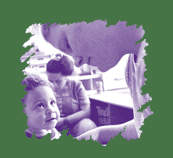 Free To Grow
Mailman School
of Public Health
Columbia University
722 West 168th Street,
8th Floor
New York, NY 10032





Southwest Human Development Head Start
Organization Name

Southwest Human Development Free To Grow

State

Arizona

Program Profile

Southwest Human Development is a non-profit educational and human services agency that provides comprehensive services to young children and families who face challenges related to health, child abuse and neglect, mental health, poverty and disabilities.

The agency's Head Start program enrolls approximately 1100 children from the ages of 0-5.

Southwest Head Start, through its participation as a Free To Grow grantee, aims to strengthen its organizational capacity to serve the most intensively involved families by the use of an improved assessment and case management model.

Family strengthening interventions such as parenting classes, job readiness workshops and increased mental health counseling are also more available.

Since its inception, Southwest Head Start has partnered with School Districts in the hope of creating a seamless school experience for families.

Free To Grow strategies have helped to build upon an already strong foundation of school-Head Start cooperation to offer families integrated case management, access to a wide variety of learning opportunities and venues for leadership development.

Southwest Head Start endeavors to create a stronger community presence, along with community partners such as the Institute for Cultural Affairs, Arizona Women's Education and Employment, Chicanos por la Causa, Phoenix Children's Hospital and the Phoenix Police Department, in order to work alongside community members to combat the environmental challenges that put young children and families at-risk for success.

The target areas for Southwest Head Start's Free To Grow project are the Creighton and Crockett School areas.

These are areas of high poverty in which approximately 85% of all children attending school receive a free or reduced price lunch.

Drug use, prostitution and violence also challenge this area and two neighborhood groups exist with the goal of combating some of these issues.

The Free To Grow partnership is actively involved in these groups as a means to better understand the community, offer resources such as leadership development training and as a participant in community action projects.

It is the hope of Southwest Head Start and the Free To Grow partners that through the efforts of many, real change can take place by, with and for families resulting in a continuum of care for families seeking to reach their highest potential, a safer and more cohesive community, and institutionalized collaboration across schools, Head Start and community agencies.

For more information, contact Ginger Ward at (602) 266-5976 or via email at gward@swhd.org.