Craig Mathews, Free To Grow Program Monitor, St. Mary Community Action Agency
Building Leadership in the Faith Community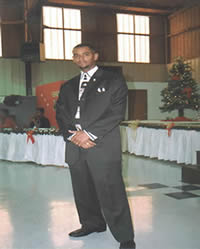 Who: Craig Mathews, Free To Grow Program Monitor, St. Mary Community Action Agency
FTG: Why is building leadership important in the work that your organization does?
Craig: In the African American community, the church has been the institution of hope, the one place where people can go when they are experiencing problems and find answers. The importance of building the leadership in the faith communities is to empower these institutions so when people come to them they will be in a position to offer something. Yes, the church should offer spiritual enrichment but it can also offer assistance that will help people become more self-reliant.
FTG: What changes have you seen in the community as a result of leadership building in the faith community?
Craig: Residents now see the church as being able to offer them real assistance to improve their lives as well as providing a more active spiritual relationship.
FTG: How has building leadership supported and strengthened your families and the communities?
Craig: By building leadership in our community, families have the opportunity to be linked to the resources they need to strengthen their family and community, services such as substance abuse treatment. Families can access these resources through their church instead of going outside of their neighborhood to unfamiliar people and places. Therefore, we are seeing less resistance to receiving the services which ultimately strengthen our families and communities.
FTG: What are the particular challenges of working with churches?
Craig: One of the challenges is getting church leadership to accept change and understand there are more efficient ways to work with families and communities. There are some who are so accustomed to doing things in a traditional way that they are sometimes resistant to more formal or structured processes. In addition, these processes may be intimidating so we must work with the leadership to remove these barriers. Another challenge is about turf. Getting pastors and church leaders to let down their guards and be less territorial is difficult. We have worked hard to demonstrate that working together with each other's congregations is a good thing and will benefit the entire community.
FTG: What have been the benefits/successes of building leadership for the community and for your organization?
Craig: Building leadership in the community lessens the amount of work and staff time that has to be dedicated to getting services to people. It is amazing because residents now own the process and the responsibility becomes theirs. So, our responsibility as an organization becomes to providing technical assistance and guidance for them to succeed. One example was our recreation center. The faith community was very instrumental in helping to get the recreation center by participating in the governmental process and attending local parish meetings. When decisions were being made regarding financing for the recreation center, they flooded the courthouse, voiced their opinions and demanded that their views be considered. This resulted in an additional $800,000 in construction revenue.

FTG: What steps did you take to build leadership in your community?
Craig: We used a variety of campaigns to build leadership in the community. Through one of these, our Operation Clean Hands campaign, we encouraged people to be leaders in their homes, neighborhoods and churches in standing up against drugs and cleaning up the community. This theme resonated in the churches and we now have several of them doing trash bag days and sponsoring recreational activities as well as spiritual ones.
FTG: How has Head Start played a role in building leadership? Craig: Head Start has played a significant role in building leadership. We encourage parental involvement as a means to build leadership and our Head Start centers have hosted many of the leadership building activities. As a result of parental involvement there are now many after school activities that are hosted by churches.
FTG: What has been the role of your partners?
Craig: Our partners play significant roles, but the most interesting example happened during prom season. Our school and church partners worked together to offer a church sponsored marriage and family seminar in the school auditorium for parents while the children were down the hall at the prom.
FTG: What advice do you have for other communities seeking to build leadership?
Craig: Don't take the faith community for granted. The faith community has so much more to offer than preaching. Churches regularly have people coming in and out of their doors who don't utilize other agencies. Communities need to capitalize on this resource and make sure churches understand they have a duty and responsibility to offer residents more than the Sunday morning message.

For more information, you can call Craig Mathews at (337) 828-9480 or email him at grantsbymathews@aol.com.