Cathy Wamsley, Executive Director and Cheryl Price, Family and Community Development Director
Umatilla-Morrow Head Start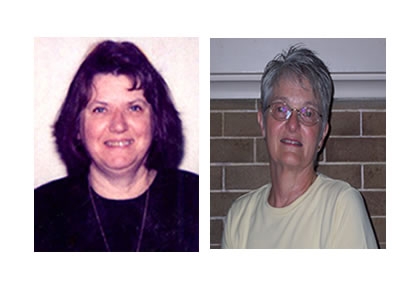 Who: Cathy Wamsley, Executive Director and Cheryl Price, Family and Community Development Director
What: Cathy and Cheryl spoke with In-Site@freetogrow.org about how family and community assessment can promote healthy child, family and community development
FTG: Why are community and family assessments important?
Cathy and Cheryl: First, family assessments are required by Head Start. We have always looked at the family risk and protective factors that exist in the communities we serve. Understanding the risk and protective factors helped us identify what kinds of families to recruit. Prior to Free To Grow, we thought we were doing pretty well. With Free To Grow, we realized that we needed to look at the community piece differently and look at the risk and protective factors in neighborhoods too. So we now use community assessments to identify and prioritize families that live in high risk neighborhoods. This helps us to know about families exposed to or involved with substance abuse versus finding out when their children are in our program.
Historically, our process of community assessments has been to gather data by surveying agencies, staff and parents. Now we find people in community groups, i.e. boy scout leaders and ask them what they see as the issues in the community. We target neighborhoods for recruitment of families by going door to door. This is a different way for us to recruit, but when we started analyzing where we were getting applications from for the program, we realized we were missing some of the roughest neighborhoods. This was confusing because we knew that we had seen children in those neighborhoods. The question became, "So how come we were not receiving applications from these families".
FTG: What changes in families have you seen since their involvement with Free To Grow?
Cathy and Cheryl: We have seen many changes. Our chief of police has seen an increase of neighborhoods doing neighborhood watches, which has resulted in more participation in the community wide community watch. Families in the neighborhood have done things to get to know one another better. They seem to have a sense of helping each other out in ways they did not before. Anecdotally, we have heard that neighbors that did not get along with one another are now fine with each other. We know that people occupying drug and burglary houses are now gone. We have watched the Hispanic parent leadership of Head Start come together to work on projects in various neighborhoods such as clean-ups and the provision of resources or pushing their neighbors to get organized.
FTG: How has the revised assessment/approaches supported families and communities?
Cathy and Cheryl: We had an assessment that we initially used to recruit families for the program. It did not always give us all the information we wanted. As a result of what we have learned over the past several years, we are changing the whole process of family assessment. Currently our recruiters are not the home visitors so we are adopting the Audubon Family Assessment. Using the walkability survey from SAFEKIDS helped us connect the family and the community piece. The walkability survey helped us determine what neighborhoods to target for Neighborhood Revitalization and we also use it as a recruitment strategy for finding children. We also found that parents open up more as we are walking the neighborhood and talking with them. Before, we would ask them about their goals, such as going back to school or accessing health services and they would not connect because many had already achieved them. Now, as they are walking the neighborhoods, they see something unsafe and realize that their goal can be have a clean up, and get involved in improving their neighborhood. This is a different way of assessing a family by looking through the lens of the neighborhood in which they are living.
FTG: What has been the role of your partners in helping to get a better understanding of families?
Cathy and Cheryl: We have a great relationship with our police chief and so we can get police data to understand the hot spots and the high calls for service area in the community. This again helps us to target and recruit families and understand some of their needs prior to getting them into the program. In addition, this allows us to connect with families that are not Head Start families because we can engage and connect those families to the police. This allows them to become active in the community through neighborhood watches and other ways. We also have wanted to partner with schools and wanted to identify families prior to starting school and provide some intensive case management. The idea is to bring in partners so that those families that are highest at risk would have resources. There are CARE Teams that are connected to the schools and we wanted to be part of this because many of the families referred to this team are past Head Start families. We are now part of this and can refer our families to this team knowing they will receive services. We have also developed a similar team, a Family Advocate Support Team that brings community resources to support Head Start families who are not also connected with the schools. We're also able to use partners to provide intensive case management when it's needed.
FTG: What are the challenges of a broad perspective like this?
Cathy and Cheryl: Everyone realizes the benefits of such a broad perspective and everyone, such as city government, staff, parents and residents want us to be involved with them. The City of Hermiston has seen a 25% decrease of crime and they attribute it to the Free To Grow approach. We don't have enough resources to work with everyone. At community block meetings, we are always asked, when do we get the Free To Grow approach in our neighborhoods. So the challenge is to figure out how to share this work with everyone with limited resources.
FTG: What advice would you share with others trying to support healthy child, family and community development?
Cathy and Cheryl: You have got to want to strengthen families and recognize that to do that, you have to strengthen where they live. There is a lot of interest in doing this in Oregon and we have shared that it takes a lot of work but you will see lots of changes in families and neighborhoods as you do it. You need to have partners because of the amount of work so don't plan to do it alone. In Head Start, we have gotten too bogged down in education and we need to relook at our partnerships to strengthen our communities and families.
For further information, you can contact Cathy at Umatilla-Morrow Head Start, 110 NE 4th Street, Hermiston, OR 97838 or via email at cwamsley@umchs.org.