Maria Reyes, Director, Intercultural Service Center
YWCA of Tulsa, Oklahoma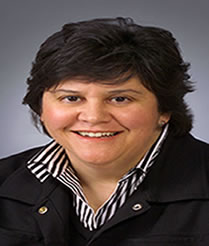 Who: Maria Reyes is the Director of the Intercultural Service Center of the YWCA of Tulsa in Tulsa, Oklahoma.
What: Maria spoke with In-Site@freetogrow.org about her role and the role that the YWCA has within the Latino community. Maria shares the details and the benefits of this role and relationship.
FTG: Why did you get involved in community building as a Latina?
Maria: My parents are immigrants and I have a need and a desire to give back to the community. Plus, I have always enjoyed working with people from other cultures.
FTG: What kinds of issues are important to you as a Latina to work on in this area?
Maria: The biggest issue is the empowerment of immigrant women. Empowering immigrant women involves engaging them, increasing leadership opportunities for them and helping them secure employment. Another important issue is increasing the number of bilingual/bicultural women to work with the immigrant Latino populations.
FTG: What have been some of your successes?
Maria: We have had a number of successes in working with the immigrant Latino population. Latinos now have access to information at a dedicated space we created to house immigrant and refugee services where we have immigration counselors who are accredited by the Immigration and Naturalization Service. We have been working with the schools to offer classes for students' families through the 21st Century grant and are holding our second Families and School Together parenting program. We consider this especially successful because we graduated 10 families from the first program when we know this population is incredibly mistrustful of institutions.
FTG: What have been some of your challenges?
Maria: Our biggest challenge is dealing with undocumented Latinos. The undocumented community is marginalized and we are limited in how we can help. Even though Tulsa has been successful in getting legislation allowing children of undocumented parents to go on to higher education and apply for financial aid, neither the children nor the parents can get jobs because they are undocumented. So we still have work to do.
FTG: Is it easy to bring the Latino community together?
Maria: Yes, it is easy to bring the Latino community together. In Tulsa, the community is organized more strongly than other groups because they have been working together on issues such as driving licenses for immigrants and fighting "English Only" legislation for some time now. The immigrant community is interested in working on issues. They feel this is their home and their community and they are doing many things to demonstrate this. In Tulsa, the English as a Second Language and the US Citizenship classes are full.
FTG: How have you brought them together?
Maria: We have brought the immigrant Latino community together in many ways. We collaborate with other organizations on issues that we have in common. It is the trusted institutions – the ones with a good track record with the community – that hold community events and get people out and involved. We also use the people that have been involved in leadership training to go to the neighborhood and talk about events and issues. When you do this, people will come out and support events. We plan awareness events and try to respond to issues the community has. For example, at one time, there were attacks against Hispanics carrying large amounts of cash because they did not use banks. We responded by offering a financial literacy program for immigrants to understand banking – how to make deposits, withdrawals and write checks – and as a result, reduce their risk to crime.
Another big issue for this community is health care. Most people in this community don't have health insurance and there are not many health clinics to serve them. We held two health fairs to bring people out and get them involved in changing this condition. We are now starting to receive resources to deal with this problem.
Overall, we have the goal of making the immigrant community self-sufficient. We believe that if you do this, you will strengthen the community. You will get their buy-in and they will tell you what they need and they will come together.
FTG: What would you share with other Latinos or other communities trying to involve Latinos in community building?
Maria: Go to the community and find out what information and education they need. Then address the basic needs of the community and try to remove the barriers so the community can access services. This will help achieve the goal of making the community become self-sufficient. As you do this, you will begin to cultivate natural leaders in the community
FTG: What role did Head Start play in helping you get involved with community building?
Maria: Because of the necessity for both parents in immigrant families to work, the need for child care is important and Head Start offers a trusted place. Because the children are in Head Start, we have access to the parents to get them involved.
For further information, you can contact Maria at the Intercultural Service Center, YWCA of Tulsa, 8145 East 17th Street, Tulsa, OK 74112 or via email at mreyes@ywcaoftulsa.org or visit http://www.ywca.org/