Rosa Rejon, Parent of three children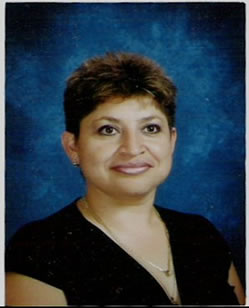 Who: Rosa Rejon, is a parent of three children, ages 8, 11 and 14, a teacher's assistant at Southwest Human Development and PTO President at Creighton Elementary School. Rosa is also in college studying child development and plans on graduating in May 2007
What: Rosa spoke with In-Site@freetogrow.org about the roles Latino/as can play in community building. She shared details of her role in the community and her perspective on how others can help.
FTG: Why did you get involved in community building as a Latina? What role did Head Start play?
Rosa: There are many reasons. When I was a Head Start parent, I saw too many parents coming into the classroom who were not able to read and did not have the information they needed to make themselves better parents and citizens. This concerned me but I was not sure what to do. As the years went by, I became a volunteer at my children's school and was working for Southwest Head Start and I continued to see the same thing - Head Start parents who needed information and access to resources such as doctors. These parents did not know where to find information and if they had information, they were not sure what to do with it. I eventually got involved with Free To Grow and learned how to organize meetings and parents.
FTG: What kinds of issues are important to you as a Latina to work on in this area?
Rosa: There are so many issues -- drugs in the community, domestic violence, learning English, parents going back to school and access to medical services. It seems that immigrant Latinos do not use clinics. Instead, they will use walk-in emergency rooms which charge much more than clinics. We have to educate them that clinics will charge less, even without social security numbers.
FTG: What have been some of your successes?
Rosa: There has been success in everything we have done. When we find information for parents, particularly on how to access the medical community, we have a success. We are currently working on issues around drug dealing in the community and are currently working with the city of Phoenix to communicate information about the connection between drugs and domestic violence. The fact that we are starting to work on these issues is a success. Whenever we get information out there, it is a success.
FTG: What have been some of your challenges?
Rosa: The challenge for me is personal. I am a working mother. I have a family. I am involved with the Free To Grow efforts in our community. I am PTO President of the Creighton School and I am in college. Time is my biggest challenge because being involved in the community is something I really want and need to do, but it can be very difficult. It can also be hard living up to the expectation of being a role model/mentor for others, but the biggest issue is trying to fit it all in.
FTG: Is it easy to bring the Latino community together?
Rosa: I am not going to say it is easy. There are always issues such as scheduling, transportation and what I call the Latino necessity to work. It becomes very hard to coordinate schedules - when I am available, they are working and vice versa. The issue is not that the parents do not want to be involved but that we have to work around our schedules. We know this because we did a survey where parents asked us to hold meetings in the morning. So, we have been trying to meet and get things done early in the morning before work. Because we were able to respond, we now have parents who are more open to listen to new ideas. We encourage them to be part of the educational system because it is important. For example, parents are not aware of information because they do not visit the schools regularly. We encourage them to visit occasionally to talk to the teachers before they go to work. By getting involved, they will get information about resources.
FTG: How have you brought them together?
Rosa: It is a process that we start at the beginning of the year. First, we meet with parents to find out what they want to learn and are interested in hearing. Then, the other parents and I work together to prepare presentations on subjects they asked for. We typically send a flyer with the theme, the speaker and important information and it works.
FTG: What would you share with other Latinos or other communities trying to involve Latinos in community building?
Rosa: Be very persistent because it is hard work. Parents are working and have varying schedules. Sometimes, you will just want to give up. Remember that people do not always know how to find information or how to do things better. It seems they want us to beg and drag them to meetings. Sometimes we do, but we have them bring a friend, even if they do not have kids in school because what affects us now, will affect children to come.
For further information, you can contact Rosa at 602-451-1881 or via email at Cledda22@msn.com