Lyn McNeff, Maui Economic Opportunity Head Start Director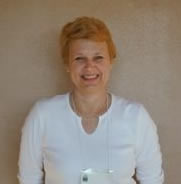 Who: Lyn McNeff, Maui Economic Opportunity Head Start Director
What: Lyn spoke with In-Site@ freetogrow.org about the role and partnership the Maui Economic Opportunity Head Start program has with its local child protective services agency. This partnership has been in existence for the past 5 years. Lyn shares the details and benefits of this partnership for Child Protective Services and for Head Start.
FTG: How did Maui Head Start's relationship with Child Protective Services come about?
LM: We at Head Start realized that Child Protective Services (CPS) did not understand early childhood issues. Their social workers acknowledged that early childhood was not part of their training. I realized that we needed to help them learn about early childhood issues rather than lecture them.
We decided the best way to help was to invite CPS to be on our policy council. In this way, they would understand a variety of things about children. For example, CPS social workers could hear and see why it was not best for children to be pulled out of their center in the middle of the day by a stranger for a supervised visitation and then brought back. They didn't realize this can be disruptive for the child doing the visit and the other children in the program. They also didn't understand our guidelines about pickup. CPS would send someone to pick up a child and the center did not have that person on the pickup list, so I wouldn't release the child The workers did not realize that we needed a name. I remember a worker saying "I"ll just put down that anyone with a badge is okay." At this point, I realized we needed to do some education about what is appropriate for children. And so our partnership began. We invited them to be part of our policy council so they could take ownership and buy into the whole concept of working with children rather than just learning about it from afar. We wanted them to learn about making decisions for children.
FTG: And they accepted your invitation to join the policy council?
LM: Yes because the case manager/social workers that had been to the center knew us and felt that we had been accepting the children (they referred) the best we could. When I talked to the person at CPS, I explained that the partnership would help both of us. Head Start would better understand CPS's needs and CPS would better understand what we have to offer. In this way, we could work together on behalf of the children.
FTG: What was/were the issue(s) you were trying to address with the partnership? How did you know there was a concern/problem?
LM: We really were trying to address the idea that the best of interest of the child comes first and foremost. We also have progressed over the years. The first person on the policy council served for three years and then facilitated the next CPS representative's participation. This partnership has enabled the CPS representative to go back to all of the social workers and explain how the Head Start program runs. A good example is when a parent asks CPS for a full day slot and the parent is not working. The social workers understand and know the program so they can explain to the parents what the criteria is for a full day slot. This allows the Head Start staff to avoid a contentious situation with the parents.
FTG: How is the partnership structured?
LM: The CPS representative sits on the policy council and is nominated by the parents and the center. There was an incident where a center parent did not want to nominate a particular CPS representative because of an interaction they had with that person. When the nominee's name came up, the policy council acknowledged the situation the center parent had with the nominee, but the policy council advocated that Maui Head Start needed CPS on the council because they recognized that we are dealing with important issues and CPS is helping us. The policy council went onto say that CPS has always been good advocates for the children and we would like to see this partnership continue.
FTG: Can you take me through a likely scenario that shows how the partnership works if you identify a child who you are concerned might be abused in your Head Start program?
LM: As mandated reporters, we report if we identify or suspect abuse or neglect. The worker, who witnesses, sees or hears about the possible abuse or neglect is the reporter. As a staff, we are up front about our status as mandated reporters. In every interview with a parent, I ask questions about child abuse. This way, the parents know that we are mandated reporters and there is no other option when we suspect or identify child abuse or neglect. Our staff has an annual training which is conducted by our CPS policy council representative. When we report, the approach is that we are not the bad guys, but that we are here to help you. We tell the staff that some incidents may be a cry for help and initially, you are the child's advocate. The families work with the family advocates so there is not a broken relationship between Head Start and the families. We have only had one parent very upset for reporting. I explained that we are the child's advocate and in the end, she admitted she was a child of abuse and wished she had someone like me when she was younger.
We have had incidents with CPS where we have reported repeatedly, but a case is not opened. This happens sometimes because the report goes on a risk matrix and if it is perceived as not severe, a case is not opened. We have used the CPS policy council representative to ask questions and explained that we have reported and nothing has happened. The representative becomes our contact so he can follow-through on the report. This helps facilitate a report if we feel that something is going on and have not receive a response. For example, there was aa suspicion of sexual abuse that had occurred for two years. Neither child would talk about the possible abuse nor were we able to get CPS to open a case. Our representative helped us to have this situation investigated. Another example was educational neglect where the child had an Individual Educational Plan and was not coming to school. The representative was able to follow through and help us get this case investigated. Thus, we use the CPS policy council representative as sounding board when we suspect abuse or neglect or to move a case further/forward. The representative is sitting on the council, learning and understanding us so they know we are not getting hysterical and reporting everything, but that we are trying to work with the families before an abuse/neglect case is opened.
I also sit on the citizen's review panel for CPS so I am the participant representative on that panel. I can bring questions, issues and concerns to this level if I feel like that something has not been settled. It is also just another avenue to have since the CPS Division Chair also sits on this panel.
FTG: What about when a HS aged child is identified by CPS?
LM: Now that we have a relationship with CPS, all of their workers want to place children in our center. We have the case workers coming in and signing the children into the program. They have learned and realized that our program is comprehensive. At one of our recent policy meeting, the CPS representative said," I love Head Start because you do my work for me" We do work with the families and it is not duplication or competition of services with them.
We even work with CPS when a foster family drops out. We work very hard to place a child in another Head Start program for continuity of the child. For example, we had one child moved four different times. When CPS called us, they did not know that the child had an Individual Educational Plan. We informed them. We also had another situation when we realized that they had put four children with Individual Educational Plans with one foster family, probably creating some stress. This demonstrates that the partnership really does work both ways.
FTG: Has your Free To Grow work enhanced your CPS partnership?
LM: Of course it has. The CPS policy council representative is well aware of Free To Grow and tries to get children and their families involved with Free To Grow activities. The goal is to reach both the birth and foster families that need the Free To Grow services. In this way, we still have the continuity when the child goes back home.
FTG: What would your advice be to other early childhood programs interested in building a partnership with CPS in their community?
LM: My advice would be to understand how to get buy-in from CPS. Learn and understand what CPS needs from your programs versus what you need from them.


For further information, you can contact Lyn at 808-249-2989 or via email at lyn.mcneff@meoinc.org