Community Development Week Award to Lincoln Free to Grow
April 12, 2004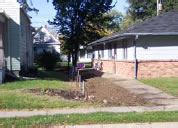 On April 12, Governor Mike Johanns honored Lincoln Free to Grow with the Community Development Week Award. Renee Malone of the Clinton Neighborhood Association nominated Free to Grow for this honor. Recognition was recommended by the City of Lincoln Urban Development Department Community Development Task Force.

The plaque presented by Governor Johanns reads, "In appreciation of the excellence in community development and strength of community development exemplified by the Lincoln Action Program."


Lincoln Free to Grow neighborhood revitalization is a collaboration of Lincoln Action Program Head Start, the Clinton Neighborhood Association, Neighborhoods, Inc., several City of Lincoln Departments — Police, Building & Safety, Health, and Urban Development — and neighborhood residents.
Nationally, Free to Grow programs promote substance-free, safe communities through prevention efforts that focus on improving home and neighborhood environments.


The initiative targets the Clinton Neighborhood adopting an integrated approach focused on enhancing human capital, social capital, and the physical environment. Human efforts increase access to and utilization of social services including mental health and substance abuse resources. Initiatives to foster increased communication and leadership skills among area residents bolster social capital. Physical environment enhancement efforts have included two neighborhood clean-ups, two graffiti clean-ups, establishment of Neighborhood Watch groups, increased housing and health code enforcement, and increased police/community involvement. The clean-ups were aggressively pursued with door-to-door neighbor contact and assistance involving neighborhood residents and volunteers from all ages and backgrounds.

Financial support for Lincoln Free to Grow comes from the Nebraska Children and Families Foundation, the Doris Duke Charitable Foundation, the Robert Wood Johnson Foundation, and Lincoln Action Program Head Start.

(Reprinted from the April 2004 Lincoln Action Program Notes and with permission of the Lincoln Action Program, lincoln-action.org)