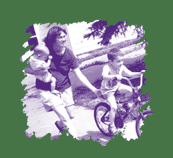 Free To Grow
Mailman School
of Public Health
Columbia University
722 West 168th Street,
8th Floor
New York, NY 10032









AVANCE




Parent Education

: Special Populations


By providing support and education services to low-income families, AVANCE strives to strengthen the family unit, enhance parenting skills, promote educational success, and foster parents' personal and economic success. The AVANCE program is designed for at-risk parents with children under age four, and is geared toward Hispanic parents in particular.

Some of AVANCE's aims are to (1) provide direct services so that parents and children can realize their fullest potential, families are strengthened, child abuse and neglect and educational problems in young children are prevented, and the family's economic condition is stabilized, and (2) operate a national training center to share and disseminate information, materials, and curriculum to service providers and policy makers interested in supporting high-risk Hispanic families.


One of the core programs, the Parent-Child Education program is a nine-month intensive parent-education program that serves families with children under age two-and-one-half. Parents attend weekly parenting classes that are divided into three one-hour segments. The first hour focuses on toy making, and the second hour on parenting skills, including such topics as child development and discipline. The third hour covers community awareness and includes information on community services and how to access them.
AVANCE is a quasi-nonprofit franchise. The National Office encourages, supports and expands the use of the AVANCE model to quasi-independent chapters and affiliates. The National Office also is a national leader in promoting effective, comprehensive, community-based developmental services to parents and children in high-risk Hispanic families.
(Adapted from information on the AVANCE website, 2002, www.avance.org, and used with the permission of AVANCE

)
Evaluation



Research shows that mothers enrolled in the AVANCE program had more organized home environments, were more positive in their interactions with their children, and spent more time teaching their children.

(Adapted from information on the AVANCE website, 2002 www.avance.org, and used with the permission of AVANCE)



Featured Strategies


> Effective Black Parenting

> Strengthening Multi-Ethnic Families and Communities